BONE THIEF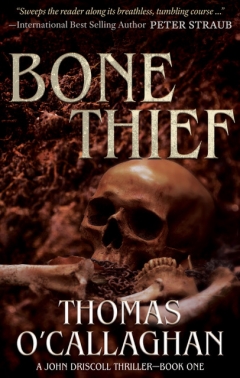 By Thomas O'Callaghan
Published by WildBlue Press
A sociopathic killer is using the internet to lure seemingly random women to their gruesome deaths in New York City. During his heinous murderous spree this madman is extracting the bones of his victims. His sheer brutality has the residents of the Big Apple in panic mode.
Who is this twisted psycho who's abducted a housewife in broad daylight only to dispose of her lifeless body alongside a lake in Prospect Park, nailed the boneless remains of a nameless drifter to the underside of a boardwalk at Rockaway Beach, allowed the gutted corpse of a single parent to wash ashore under the Brooklyn Bridge, and has had the audacity to leave the desecrated body of the Magnolia Tea heiress rotting atop trash at one of the city's sanitation dumps?
NYPD's top cop, Homicide Commander John W. Driscoll, has never witnessed such savagery. Hammered daily by the District Attorney, the Mayor and the Police Commissioner, the Lieutenant, who's battling his own inner demons, must use every resource available to put an end to the killings. In a race against time, Driscoll, aided by Sergeant Margaret Aligante and Detective Cedric Thomlinson, sets out on a rollercoaster of an investigation to first identify the villainous fiend, and then put an end to his butchering.
Excerpt
She was sitting before him, duct tape sealing her mouth and binding her arms and legs to the chair. She reeked of fear, but Colm saw only the terror in her eyes.
"I can't tell you how thrilled I am to finally meet you," he said, pulling up a chair. "The personal touch is lost when corresponding over the Internet. It did permit me to gather volumes of information about you. But in exchange you learned nothing about me. That's not fair. Wouldn't you agree? I can't tell you why, but it's important to me that you go to your grave knowing who it was that sent you there."
The woman's eyes widened. Tears streamed her cheeks.
"My name is Colm Pierce. Although my birth name was O'Dwyer. My adoptive parents, the Pierces, thought my name should be changed. Wonderful parents, the Pierces."
He stood up. Behind him five meat hooks dangled from a stone ceiling. She moaned, biting into the plumbing tape and tasting its metallic resin.
He walked to the stove and opened the oven door. Rubbing his fingers on its blackened walls, he returned to his captive, streaked her cheeks from ear to ear and encircled her eyes with soot.
He left the room. When he returned, he was pushing a gurney. It held a tray of surgical instruments. Selecting the Bard-Parker scalpel, he turned to face his Deirdre.
She trembled as the skin of her neck welcomed the glimmering blade.
Copyright © 2005 Thomas O'Callaghan
9781952225109